Increase Your Kerb Appeal
Kerb appeal is a term used to refer to the attractiveness of your home or property from the outside. It is the first impression you get when approaching, as to whether it gives off a good appearance from the street or driveway it is situated on.
Collapsible content
Guide Contents

• Why increase your kerb appeal?

• What can I do to improve my homes Kerb Appeal?

• What could lower my Kerb Appeal?
Why increase your kerb appeal?
Increasing your kerb appeal is the process of making the external aesthetic of your home more appealing. Homeowners may look to do this to give off a better first impression on the appearance of their property, which could be for many reasons, including if they are looking to sell their home or rent out a property, a great first impression can make all the difference.
In fact, research commissioned and released by estate agents Strutt & Parker, report that a whopping 76% of home buyers think first impressions are everything when they visit a property, while 66% agree they are vital when viewing a property online.
Further to this, Dulux Weathershield carried out research which concluded that nearly a third of Brits are willing to pay 25% more for a new home if it has a fresh lick of paint to the front door and brickwork. 
For such small DIY jobs with little expense and a little elbow grease, it can make all the difference to the value of your property, and its first impression and increase your home's kerb appeal. 
Keep your grass under control, trim hedges & remove dead branches
A well-kept front garden is always more appealing than an overgrown lawn with out-of-control hedges. We're talking about those wild bramble bushes and unruly weeds leaning out onto your driveway.
Cutting the front garden back will make the entrance of your home more spacious and tidy. However, keep in mind the bees, especially in the summer. They'll love the long grass and variety of flowers to pollinate from. You could even sprinkle some meadow flower seeds in your garden in March and April, for a luscious sprout in summer.
Plant native flowers, perennials and bushes
Sticking with the gardening theme, don't just keep your flowers in the back garden! Planting native flowers such as geraniums, will without a doubt make your home more welcoming and homely to people and bees alike. The Royal Horticultural Society share great expertise in planting for the front of your home for displaying colour and attracting wildlife.
Light it up!
Adding lights to your driveway is an easy and effective way to help improve the appearance of your home, particularly in the dark winter months. Lights make your home feel larger and more homely, two things which are great for people looking to sell their home!
Get a house sign
A simple but commonly overlooked feature to increase kerb appeal is adding a new house sign to your property. A house sign helps postman, friends and family find your home while being the first thing to look at on arrival. Whether you don't have one at all or need a new one to match your property, a personalised house sign is an easy way to add value to your home. You can get inspiration for a sign on our customer gallery.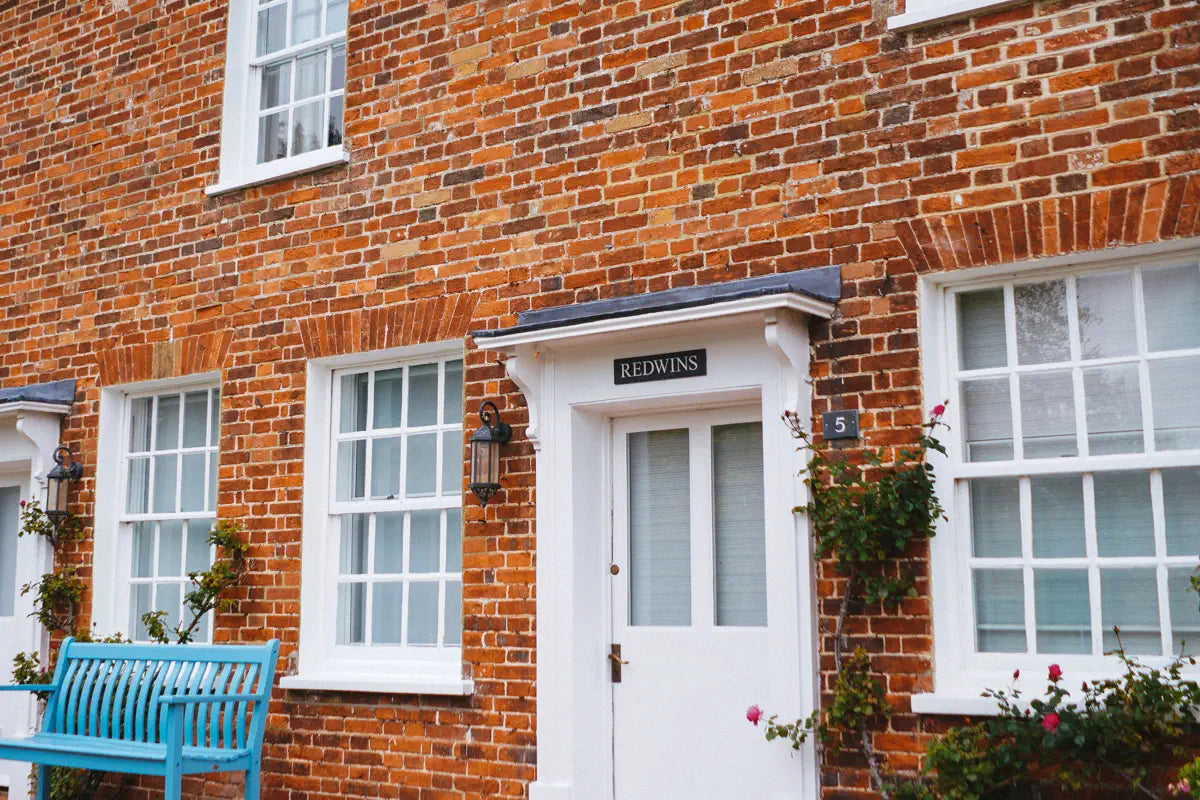 Add a lick of paint to your exterior wall, front door, fence or gate
A bit of paint really can work miracles for a property, making it feel fresh and cared for while hiding ageing in the brickwork and other fine details. White-painted exterior walls are a popular choice to increase kerb appeal, making the property feel larger and more welcoming. The front door is a great place to start with a lick of paint, and on its own, a freshly painted door can give a home a whole new appearance. Check those fences, window sills, garage doors and garden gates, a lick of paint can work wonders.
Clean your windows
Clear windows, clear mind. Well.. maybe not quite, but dirty windows will do nothing but detract from the appeal of your home from the roadside. Wipe down any window sills and make sure you leave a streak-free finish on the glass - that is a skill on its own!
Tidy your entrance or porch
It's easy for clutter to build up at the front entrance of the home. Particularly as it can turn into the second home for bikes, recycling bags, wellies, and maybe even the kid's muddy football boots to be situated. Tidy the space and keep it clear, it will make the area feel larger and brighter.
Build a path to your door
Some front gardens don't have a clear path to the front door or have an old path which has been reclaimed by nature. Either way, a clear and neat path makes a big difference when trying to be welcoming. Scrub off those paving slabs, cut around those path boarders and make a clear entrance to your door. 
Add a door knocker
A small touch, but door knockers are back in fashion with more stylish varieties than ever to choose from. Doorbells tend to add little to the appearance of a home, but a knocker can add a touch of class. Here is a great example a customer of ours sent in, where she has matched the colour of her house sign to her door knocker - it looks great! 
Keep your bins hidden
Bin storage boxes are becoming increasingly popular in the UK, keeping your bins in one place and out of sight. Large plastic tubs on wheels aren't going to do much in favour of the appearance of your home, so unless it's bin day, tuck them down the side of your home or in a wheelie bin storage box - if you have the space and budget for it of course.
What could lower my kerb appeal?
As you now know, there's plenty you can do to give your home a real boost, but there's something which does the opposite. Here are a few pointers to stay away from:
Vinyl wheelie bin stickers
• No matter the pattern or flowers which feature on your wheelie bin cover, these large stickers do little other than attract attention to get people to look at your bins. It's always best to move them out of sight where possible. As they say, out of sight out of mind.
Garden ornaments
• We're not talking about the odd garden gnome, but the homeowners who own an ornament onslaught featuring an array of animals, stone cut-outs and carved faces. This is a case of less is more, and ultimately will take away from your home's kerb appeal.
Outlandish colours
• Pink front doors and yellow garden gates may make you stand out from the crowd, but it's not everyone's taste and if you're looking to sell your home, it could be a first impression that makes your potential buyers look elsewhere. Stick to softer tones, and if you need to add some colour, a soft Autumn palette of blues, greens and burnt oranges could be the way forward. 
Now go boost your kerb appeal!
With these tips in mind, you'll be well on your way to increasing your kerb appeal and achieving your house goals, albeit freshening up your home, adding value to your property or standing out on your street. Whatever you want to achieve, you can do so on a limited budget and with a bit of elbow grease.