House Signs for Property Developments
We are proud to manufacture and deliver large quantities of slate and granite house signs to property developments working on new build projects, private developments, hotel complexes and more.
Common Questions
Do you offer any discounts on large orders?

We provide a discount of 20% on bulk sign orders at checkout. The discount is automatically applied by us if you order 5 or more signs, you do not need a coupon code.
Are we a VAT registered company?

Yes, we are VAT registered in the UK, our tax number is GB422044935. All our prices include VAT.
How will we receive our order?

We offer free, tracked and insured delivery on all orders using Royal Mail Special Delivery (next day delivery). If your order is weighs more than 20KG we will use Parcelforce 24 as an alternative.

If you wish for your signs to be delivered through another courier service, please let us know.
Are your signs suitable for indoor use?

Our signs are great to be used for hotel room numbers as they can be stuck onto doors. We've also had a few large slate sign orders in the past with floor plans and arrow designs that are used for guests to navigate floors too.
We need a large quantity of signs, how do we order from you quickly?
The best and fastest way is to contact us by email at hello@thebespokesignhouse.com attaching a spreadsheet with your order requirements. We have created a spreadsheet file on Google Sheets below for you to fill out and send to us. Click the white button below and fill out the form with the following 4 details: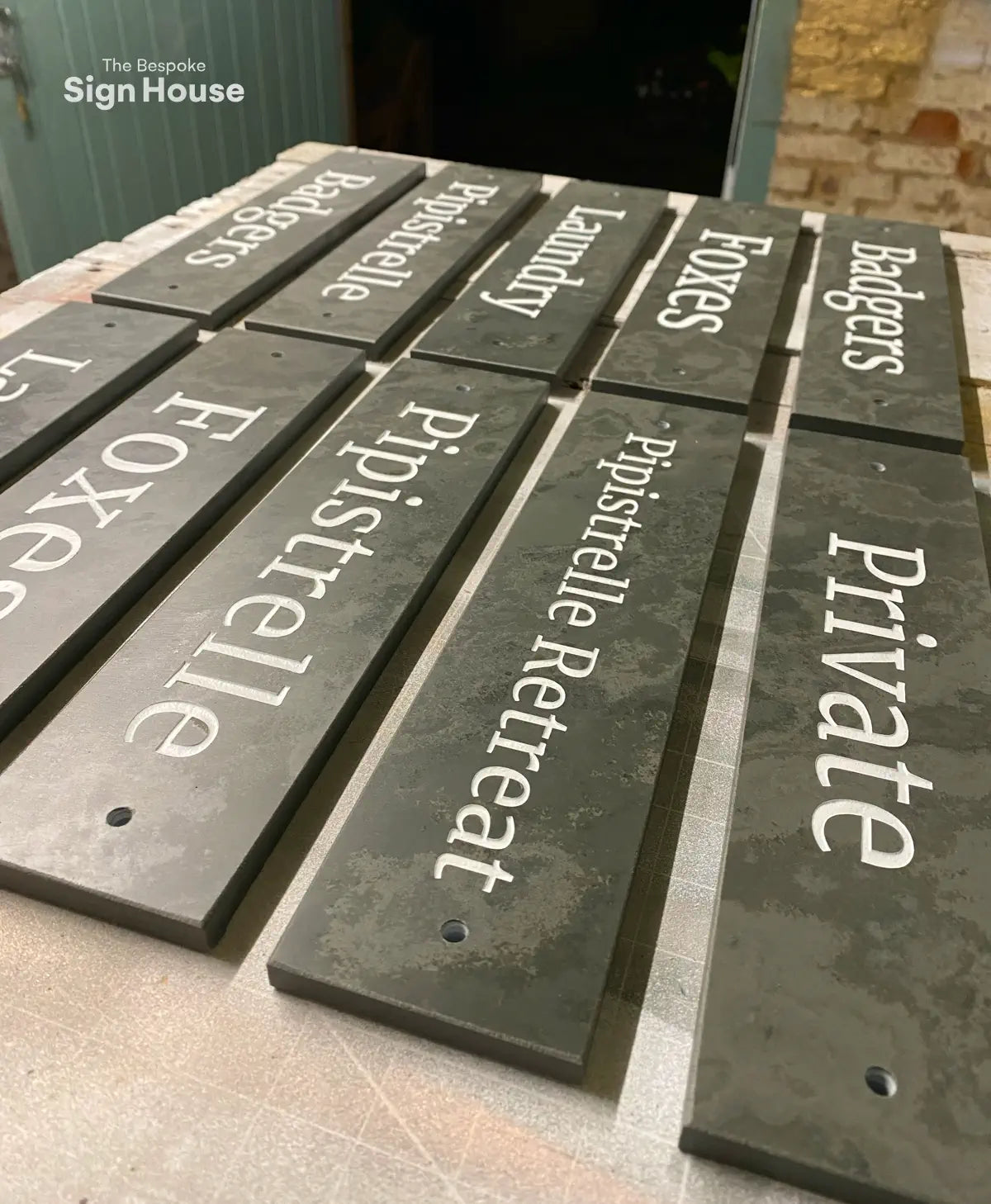 ONE: The Numbers and/or text you want engraved on your sign.
TWO: The size of each sign.
THREE: The material you'd like each sign to be. Check out the materials we use for our signs on our blog.
FOUR: The quantity of each sign you want.
We aim to get back to you as soon as possible with a quote and mock-up pictures for you to approve or amend.
The Google Sheets Doc