FREE DELIVERY FOR ALL UK ORDERS
| Order placed

Once you place your order, it'll take us approx. 4-5 working days to make and prepare your sign for dispatch.

| Order dispatches

Once we've wrapped up your order, we'll hand it over to the postman. Watch out for our tracking email.

| Delivered!

Estimated to arrive at your home within 2-3 working days. Keep an eye out for it using your tracking code.
Collapsible content
Highlights

• Material: Grey Slate

• Thickness: 10mm

• Features: Straight Bevelled Edges

All our signs are handmade to order.
Dispatch and Delivery Info

PRODUCTION TIMES

All our signs are handmade from scratch, so please allow us 4-5 working days to complete your order.

DELIVERY TIMES

For UK customers, we offer FREE standard shipping (using Royal Mail Tracked 48) which usually takes 2-3 working days to arrive. Other shipping options are available at checkout such as Royal Mail Tracked 24, Royal Mail Special Delivery and an Express option if you needed your sign in a rush.

INTERNATIONAL ORDERS

We have sent our signs all over across the globe from Australia and Hungary to Botswana and the United States. All shipping rates can be found at checkout or over on our postage breakdown page. Please note, as we DO NOT charge international customers VAT, you may be subject to custom duties and VAT charges upon delivery.

RETURNS

We DO NOT offer returns or refunds on personalised orders. However, if you encounter an issue please feel free to contact our friendly customer service team for help!
Sign details

LASER ETCHED SIGNS

• Each Laser Etched slate sign features natural grey textures, grooves and patterns - unique to each sign.

• We use 10mm thick Riven slate.

• Each sign is sealed with lacquer and slate oil to keep your sign weatherproof.

• PLEASE NOTE: due to our Laser Etched signs text finish being the exposed inner layer of the slate, when the text gets wet the colour darkens. When dry the text goes back to normal.

ENGRAVED & PAINTED SIGNS

• Our Engraved & Painted slate signs have a sleek, glassy appearance with subtle, grey cloud-like patterns.

• We use 10mm thick Honed slate.

• Complementing your home's unique style, we provide a range of six engraving paint colours to choose from.

• Each sign is sealed with lacquer and slate oil to keep your sign weatherproof.

• We will bevel all the edges of the sign for a stylish and modern appearance.
Installation instuctions

Installing your sign is a breeze. All you'll need is a drill, screwdriver, pen and the fixings we supplied in your parcel. Read our guides on each fixing option below:
What does Laser Etched mean?

Laser Etched signs are made using a laser which in burns the surface of the slate with whatever text and numbers you wanted, exposing the stones inner layer. The end finish is a smooth, flat, off-white appearance. Because of the Etched texts natural properties, the lettering becomes darker when exposed to rain, however, it's quick to go back to normal when dry.

Learn more about the difference between Etched and Deep Engraved here.
Looks great anywhere
A slate house sign is the perfect addition to any home, providing a sleek and elegant touch that blends seamlessly with any exterior decor. Crafted from natural materials, this sign is both eco-friendly and durable, boasting a striking grey hue that adds a touch of sophistication to your property.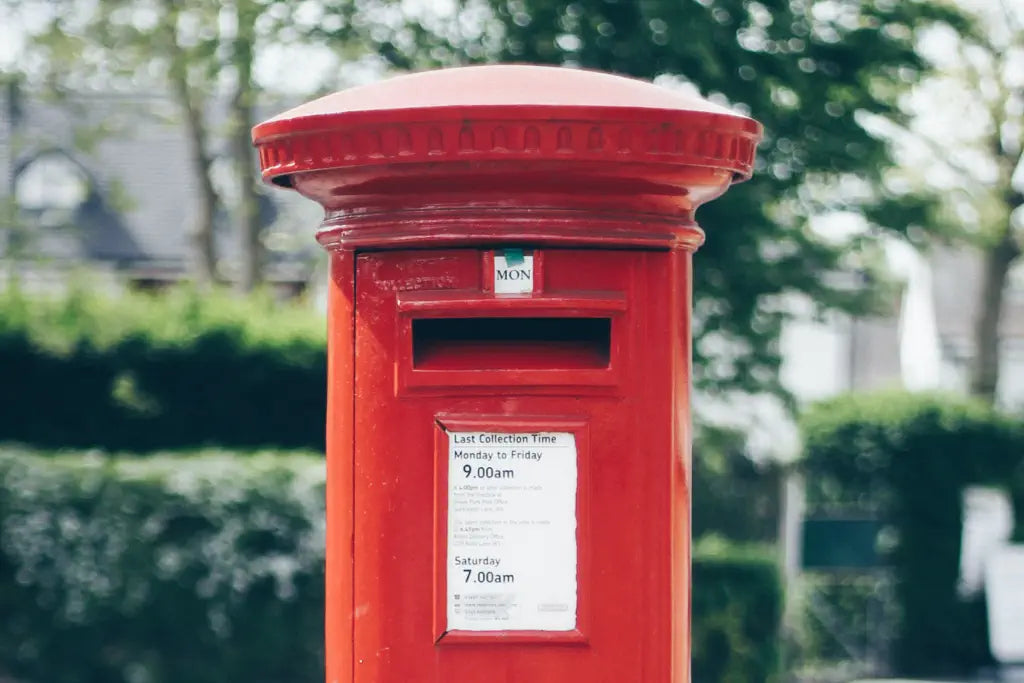 No more lost parcels
Not only does this sign serve as a direction marker for visitors, but it also helps out delivery drivers by making it easier for them to locate your home. The sign includes plaques with your house number and road name, ensuring that your address is clearly visible from the street.
Easy to install
In as little as 5 minutes, you can get your sign up proudly in its place, whether it's on the wall by the front door, attached onto the gate or on stakes out on the driveway. We offer a variety of different fixing options to suit your needs.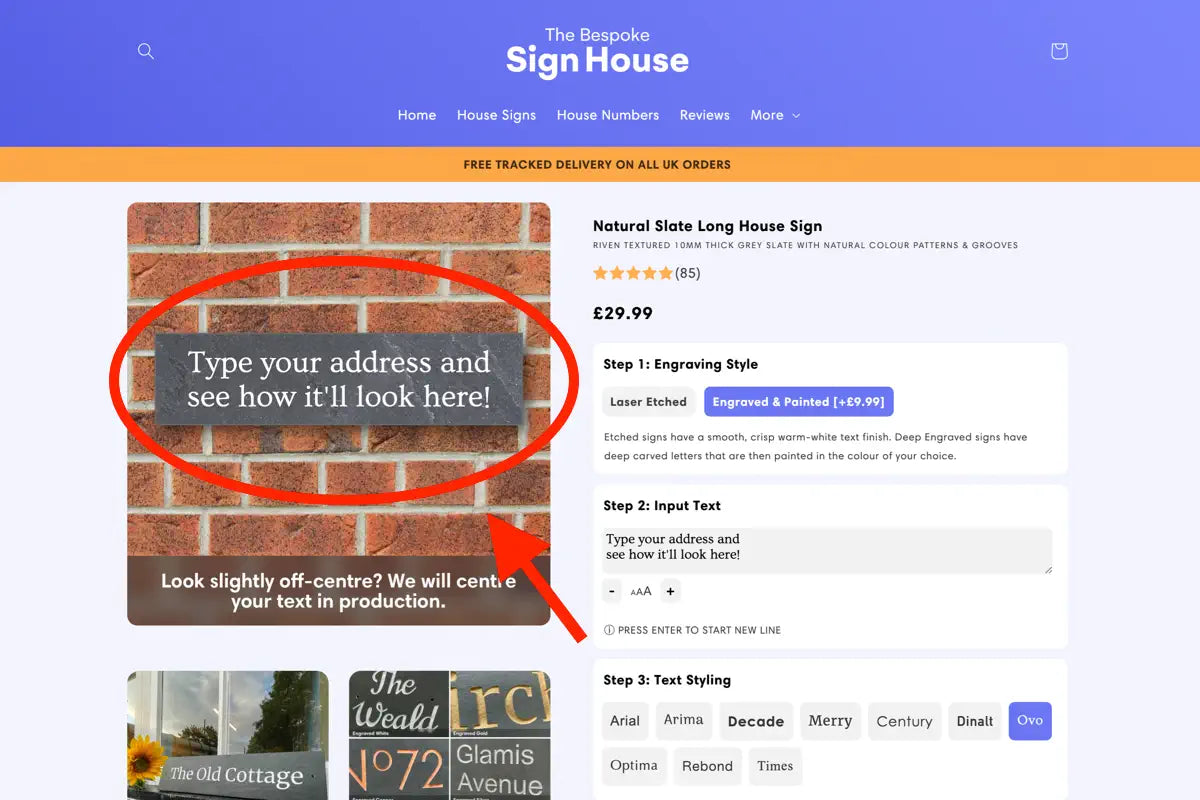 Easy to personalise
Designing a personalised slate house sign has never been easier with our user-friendly tool. Even for those with long names, creating a stunning and unique sign is a breeze - simply follow 5 easy steps to customise the text with various sizes, colours, and styling options, all while viewing a live preview image.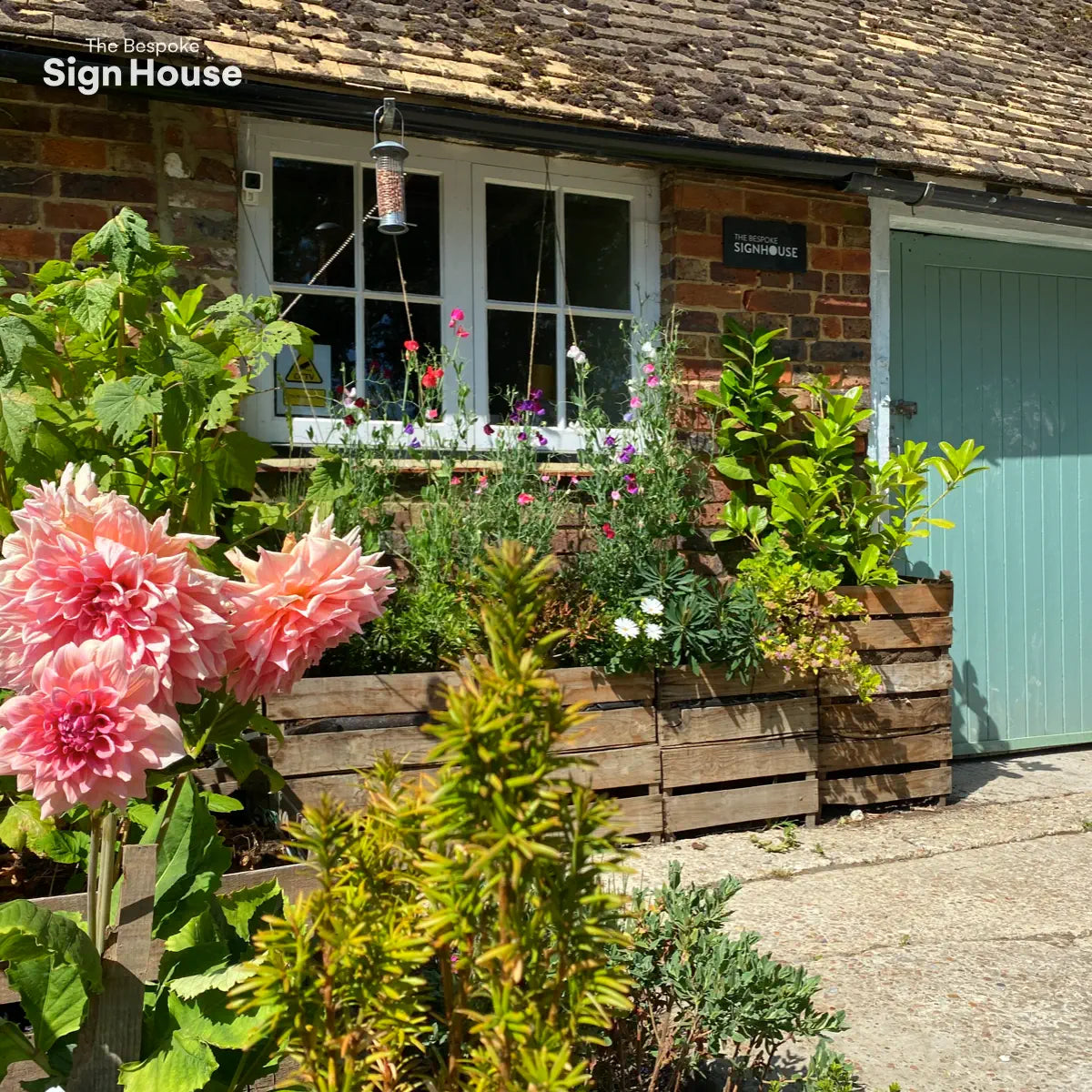 Environmentally conscious
In addition to being environmentally conscious with its use of natural materials, this slate sign also comes in sustainable, recyclable packaging. So not only will you be enhancing the appearance of your home, but you'll also be doing your part for the environment.
Need some help?
Should you require further assistance beyond our help guide, we are happy to accommodate custom requests such as specific sizing or incorporating your own design. Please feel free to email us and our team will promptly respond to your inquiry.
Sign Gallery
Here's just a few of the personalised signs we've created in the past, which have been sent all across the globe from Australia and Hungary, to Botswana and the USA.